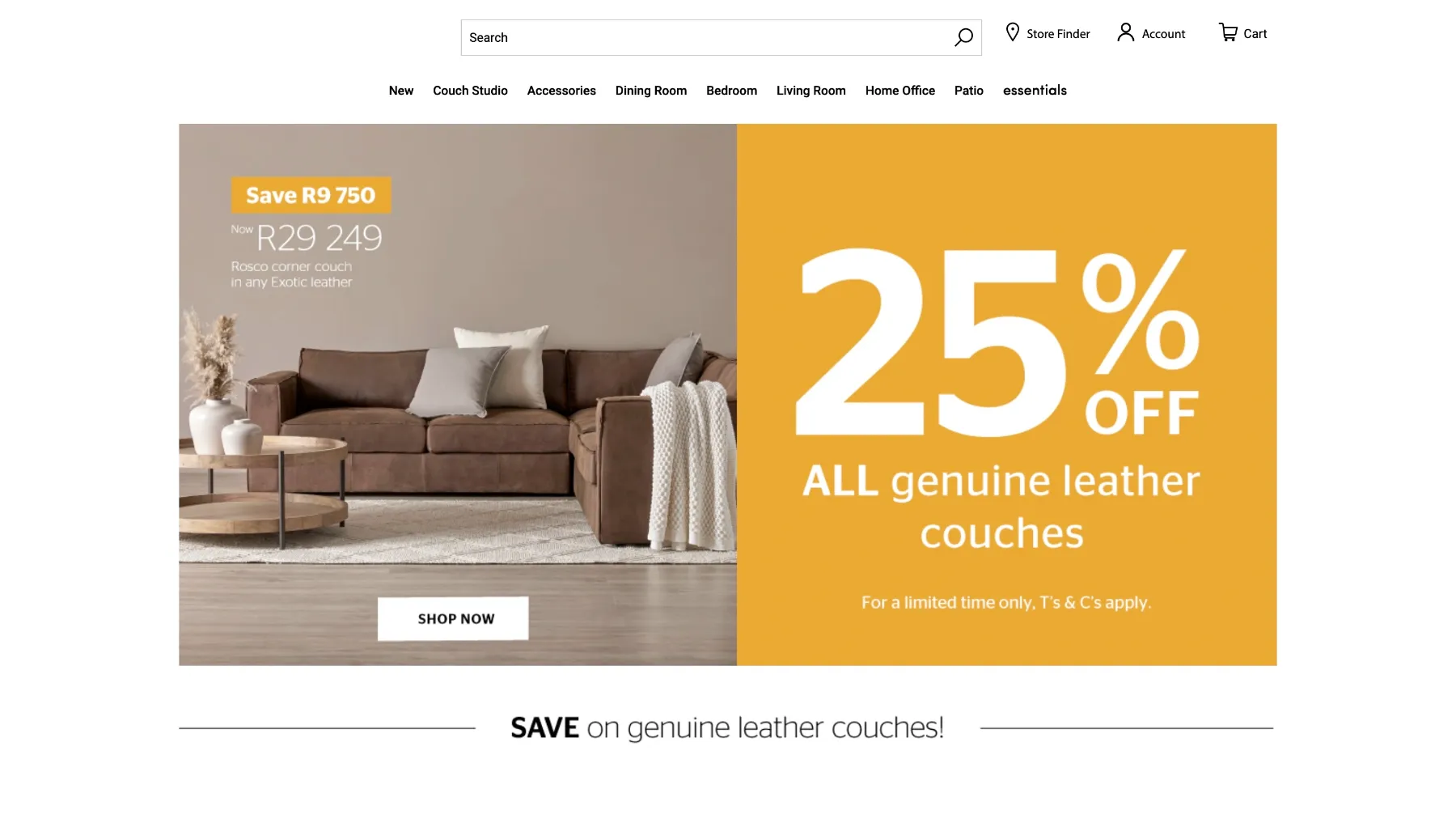 About
First established in 1995, this brand has grown from just one store in Cape Town to 44 stores across South Africa and in neighboring Namibia and Botswana. This brand is passionate about selling high-quality, lifetime pieces that are comfortable, well-priced, and timeless in design. It is known and loved for its handcrafted couches, which are at the core of its business. Their range of furniture is sourced from far and wide, and they have signature pieces catering for every room in the home, including the dining room, the living room, the bedroom, the home office, and the patio.
The Challenge
The brand had a slow website that looked very old. They needed a new design that would reflect their products' simplicity and functionality. The main principle had to be the ability to scale and grow the website.
Together with the partner team were responsible for the design and development of this store. So every detail of the process was essential. The goal was to create a selling e-commerce website with a simple design and basic features. The website should've included a product list, filtering, sorting, authentication, account management, checkout, and payment. They also needed to integrate the frontend with an API and an e-commerce platform. Though, during the development, together with the client, we added some extra features.
The Solution
The task was clear to us after the discussion of a strategy. We needed to create a simple UI so that users could navigate easily and understand the structure of a website. We have chosen a clean design with simple colors, which is appropriate for the furniture brand. A big bet was made on high-quality photos, as they are the dominant element on the site and show all the beauty of this brand's furniture. After the design templates were ready, we started our development. We used React, TypeScript, and Next for the frontend and Express for the backend. As an e-commerce platform, we chose Saleor because it had a simple API and ready-to-go admin dashboard.",
The main challenge was integrating our backend with Saleor GraphQL API because it was something new to us. Yet, this platform has very good documentation, which allowed us to quickly learn how to use it.
We were attentive to the mobile version of the website. We optimized all texts, buttons, and images. We ensured that the website was quite convenient to use both from a phone and a computer. And after we finished testing, we went to production.

Result
The brand owners were super happy with a new website. As the result, the brand got 30% increase in the site's conversion rate. We created a brand new website that is easy to use and that is well optimized for all devices.